About us
Stahlbau Schauenberg – A Family-Owned Company
Since 1958 in the steel construction industry the name Schauenberg has been synonymous with a high degree of trust, professional competence, reliability and flexibility. Our focus is set on constructions required for industrial plants and on delivery and erection of turn-key projects such as industrial and office buildings.In the meantime, an international company group with over 500 employees is working worldwide.
Intercontinental Simultaneous Engineering
50 engineers and draughtsmen prepare construction drawings and statical calculations with modern 3 D – computer aided design (CAD) software in Kirchzarten, Ihringen, Pribram and Teheran.
In 6 locations in Germany, the Czech Republic and Iran a qualified staff of 350 employees fabricates between 20,000 and 25,000 tons per year of high quality steel structures which are erected mainly by our own erection teams from Kirchzarten and Leipzig all over Europe. Time of erection is minimized by means of a high degree of prefabrication.
CNC-machines which are online connected to the CAD-software, highly modern welding techniques and any system for corrosion protection are standards for us.
In order to achieve a perfect computer integrated manufacturing (CIM) all company units are connected by an electronic data network.
Intercompany Communication Systems
Furtheron, we put a high value on a perfect communication system with our clients. So we provide all requested information on an electronic data base line – interfaces to all known planning software programmes exist or can be installed in short time.
Safety and health of our employees as well as environmental protection are only some of our base necessities and this aim is shown among others in our SCC-Certification (Safety Certificate Contractors) by TÜV Management Service Munich.
We offer high quality and short delivery times at a price favorable to our clients.
Let us give proof of our experience on your job!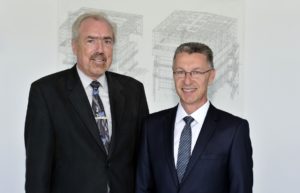 The General Managers & Partners:
Dr. Harald Schauenberg and Dr. Guntram Winterhalter